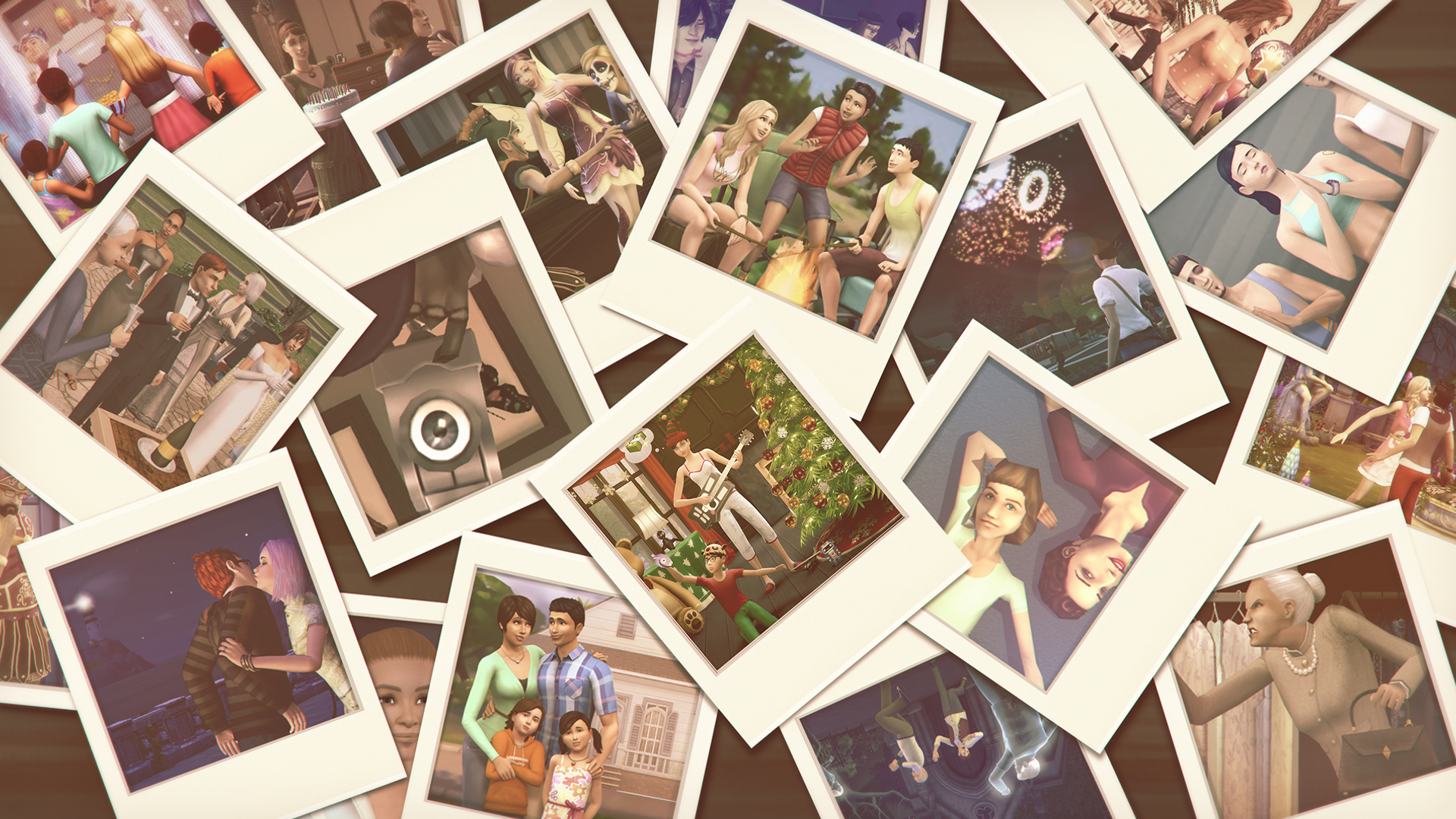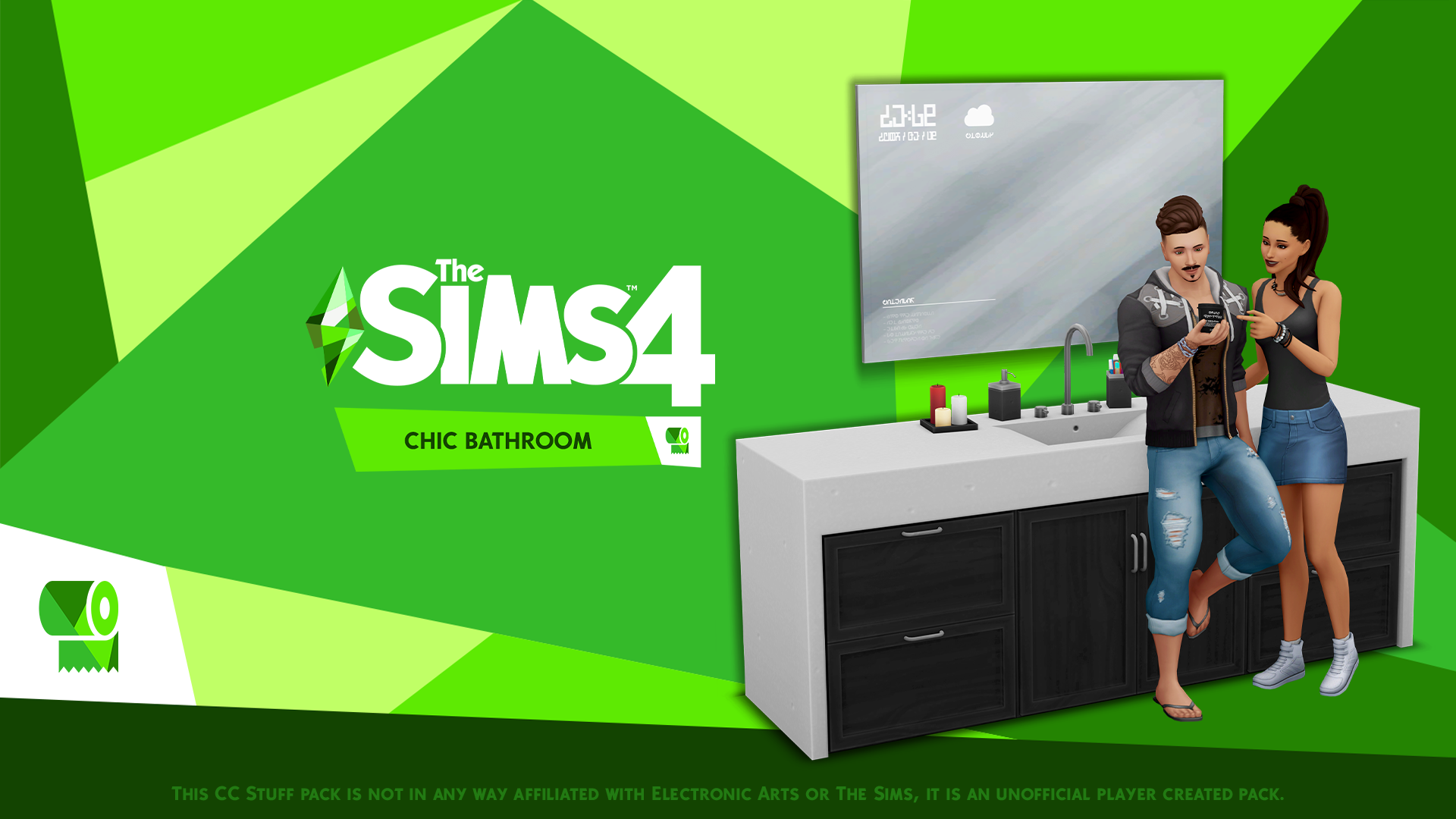 Chic Bathroom

The Sims 4
Features
A bathroom so chic it will put other rooms to shame
Introduce your sims to their own little spa with Chic Bathroom! A bathroom set designed with a few key elements in mind: modern design but also versatility. Create a contemporary bathroom with black and white plumbing, or a more traditional lavatory, with bright wood tones and pastel counter tops!
Complete bathroom set plus more
The pack includes a variety of things, from your bathroom basics like a toilet or a shower to some special items like a mirror that can be turned into a smart mirror;
100% original work, no EA textures or meshes recycling
This collection of objects was created using exclusively original work made by me in either Blender or Photoshop, without re-using existing EA textures. All objects have a diffuse, specular and normal map guaranteed. The style of both meshes and textures is maxis match.
Simple to fetch in game!
To show all the objects in game, simply type LITTLEDICA or CHIC BATHROOM in your game?s search box!
Versatile object set
Wanted to build a kitchen with some items from the Modern Kitchen Stuff Pack mixed with Chic Bathroom? No problem at all! The pack can easily become furnishing for a kitchen as well;
Stackable objects!
Every single item that contains a decorative slots will have a green text in its description saying "Stackable";

Get all the official render and logos HERE
Items List
BASE GAME PART 1
Bath Mat: Fluffy Sensations | 75 Simoleons | Decor/Rugs
Bath Tub: Chained To The Bathtub | 12500 Simoleons | Plumbing/Bathtubs
Cabinets: The Not So Thick Cabinet | 135 Simoleons | Surfaces/Cabinets
Candle Dish: Candle Dish | 75 Simoleons | Decor/Misc
Candle Large: Tall Height Candle | 100 Simoleons | Lights/Table Lights
Candle Medium: Medium Height Scented Candle | 75 Simoleons | Lights/Table Lights
Candle Small: Short Height Scented Candle | 50 Simoleons | Lights/Table Lights
Ceiling Lamp: Square And Bare | 200 Simoleons | Lights/Ceiling
Comb: Comb | 25 Simoleons | Decor/Clutter
Counter: The Thick Top Counter | 510 Simoleons | Surfaces/Counters
BASE GAME PART 2
Counter Island: The Thick Top Island Counter | 510 Simoleons | Surfaces/Counters
Counter Sink: The Thick Top Counter Sink | 510 Simoleons | Plumbing/Sinks
Regular Counter-top Sink: Slippery Frame Farmer Sink | 270 Simoleons | Plumbing/Sinks
Detergent Box: Washing Powder | 50 Simoleons | Decor/Clutter
Detergent Cup: Washing Powder Cup | 50 Simoleons | Decor/Clutter
Scent Diffuser: Molten Crown Room Diffuser | 300 Simoleons | Decor/Clutter
Wall Lamp: Cube of Wisdom | 120 Simoleons | Lights/Wall Lights
Lipstick: Jessie Scar Cosmetics Lipstick | 150 Simoleons | Decor/Clutter
Lush Can: BUSH Product | 150 Simoleons | Decor/Clutter
Mirror: Simple Reflections | 150 Simoleons | Decor/Mirrors
BASE GAME PART 3
Mirror UI: Mirror Smart Interface | 510 Simoleons | Electronics/Misc
Scale: The Truth Teller | 200 Simoleons | Decor/Clutter
Shelves Cabinet: Concrete Shelf - Cabinet Lenght | 45 Simoleons | Surfaces/Shelves
Shelves Counter: Concrete Shelf - Counter Lenght | 45 Simoleons | Surfaces/Shelves
Shelves Regular: Concrete Shelf - Regular Lenght | 45 Simoleons | Surfaces/Shelves
Shower: The Next Best American Shower | 565 Simoleons | Plumbing/Showers
Shower Gel: Molten Crown Soap | 300 Simoleons | Decor/Clutter
Shower Soap Holder: Shower Products Holder | 35 Simoleons | Decor/Clutter
Soap: Bar Soap | 70 Simoleons | Decor/Clutter
Soap Dish: Bar Soap Dish | 75 Simoleons | Decor/Clutter
BASE GAME PART 4
Soap Pump: Pump It! Soap Dispenser | 45 Simoleons | Decor/Clutter
Toilet: Rich Loox Toilet | 350 Simoleons | Plumbing/Toilets
Toilet Brush: The Toilet Cleanser | 100 Simoleons | Decor/Clutter
Tooth Brush: He Cleaned It, With A Toothbrush! | 45 Simoleons | Decor/Clutter
Towels: Cozy Towels | 50 Simoleons | Decor/Clutter
Toilet Paper Box: Toilet Paper Box | 50 Simoleons | Decor/Clutter
Toilet Paper Holder: Toilet Paper Holder | 55 Simoleons | Decor/Clutter
Toilet Paper Roll: Toilet Paper Roll | 15 Simoleons | Decor/Clutter
Wallpaper: 5 Simoleons | Wallpapers/Tiles
Wall Towels: Microfiber Paradise | 70 Simoleons | Decor/Clutter
Expansion Pack and Stuff Pack Items
Discover University Shower Tap: T.A.P. | 565 Simoleons | Plumbing/Showers
Laundry Day Washer: H&B Signature - Dryer | 1700 Simoleons | Appliances/Misc
Laundry Day Dryer: H&B Signature - Washer | 1700 Simoleons | Appliances/Misc
Laundry Day Hamper: "The Dirty Job" Hamper | 170 Simoleons | Appliances/Misc
Seasons Thermostat: Towel Heater Radiator | 300 Simoleons | Electronics
Polygon Counts
littledica.chicbathroom.bathmat - LOD0: 4
littledica.chicbathroom.bathtub - LOD0: 392; LOD1: 392; LOD2: 270
littledica.chicbathroom.cabinets - LOD0: 438;
littledica.chicbathroom.candleDish - LOD0: 46; LOD1: 46
littledica.chicbathroom.candleLRG - LOD0: 127; LOD1: 103; LOD2: 55
littledica.chicbathroom.candleMED - LOD0: 127; LOD1: 103; LOD2: 55
littledica.chicbathroom.candleSML - LOD0: 127; LOD1: 103; LOD2: 55
littledica.chicbathroom.ceilinglamp - LOD0: 20; LOD1: 20
littledica.chicbathroom.comb - LOD0: 351; LOD1: 220
littledica.chicbathroom.counter - LOD0: 464
littledica.chicbathroom.counterisland - LOD0: 468
littledica.chicbathroom.countersink - LOD0: 1016; LOD1: 614; LOD2: 614
littledica.chicbathroom.counterTOPsink - LOD0: 672; LOD1: 518; LOD2: 392
littledica.chicbathroom.detergentBox - LOD0: 30; LOD1: 30
littledica.chicbathroom.detergentCup - LOD0: 414; LOD1: 280; LOD2: 151
littledica.chicbathroom.diffuser - LOD0: 554; LOD1: 554
littledica.chicbathroom.lampwall - LOD0: 62; LOD1: 62; LOD2: 62
littledica.chicbathroom.lipstick - LOD0: 118; LOD1: 118
littledica.chicbathroom.lushCanister - LOD0: 332; LOD1: 226
littledica.chicbathroom.mirror - LOD0: 38; LOD1: 38; LOD2: 38
littledica.chicbathroom.mirrorUI - LOD0: 4; LOD1: 4
littledica.chicbathroom.scale - LOD0: 128; LOD1: 128; LOD2: 128
littledica.chicbathroom.shelves.cabinet - LOD0: 30
littledica.chicbathroom.shelves.counter - LOD0: 30
littledica.chicbathroom.shelves.regular - LOD0: 30
littledica.chicbathroom.shower - LOD0: 294; LOD1: 294; LOD2: 294
littledica.chicbathroom.showergel - LOD0: 398; LOD1: 398; LOD2: 398
littledica.chicbathroom.showerSoapHolder - LOD0: 28; LOD1: 28
littledica.chicbathroom.soap - LOD0: 30; LOD1: 30
littledica.chicbathroom.soapdish - LOD0: 46; LOD1: 46
littledica.chicbathroom.soappump - LOD0: 150; LOD1: 150
littledica.chicbathroom.toilet - LOD0: 526; LOD1: 401; LOD2: 190
littledica.chicbathroom.toiletbrush - LOD0: 40; LOD1: 40
littledica.chicbathroom.toothbrush - LOD0: 190; LOD1: 190
littledica.chicbathroom.towels - LOD0: 198
littledica.chicbathroom.TPbox - LOD0: 448; LOD1: 296; LOD2: 174
littledica.chicbathroom.TPholder - LOD0: 112; LOD1: 112
littledica.chicbathroom.TProll - LOD0: 98; LOD1: 98
littledica.chicbathroom.walltowels - LOD0: 998; LOD1: 604; LOD2: 604
littledica.chicbathroom.showerTap - LOD0: 226; LOD1: 226
littledica.chicbathroom.dryer.LAUNDRYDAY - LOD0: 2286; LOD1: 1498
littledica.chicbathroom.washingmachine.LAUNDRYDAY - LOD0: 2286; LOD1: 1498
littledica.chicbathroom.hamper.LAUNDRYDAY - LOD0: 416; LOD1: 272
littledica.chicbathroom.towelheater.SEASONS - LOD0: 1408; LOD1: 1000
Additional Credits
Blender - Modelling
Photoshop - Texturing;
Substance Painter - Snow Masks, Baking;