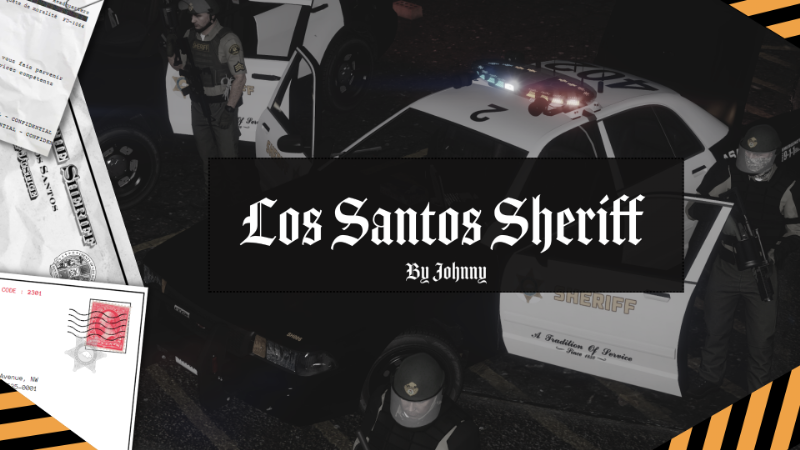 Los Santos County Sheriff Pack

Grand Theft Auto V
This package seeks to offer you a new experience for the LSSD. I am far from being a professional, this is only my second mod. Some models will surely not suit everyone, but it respects the line I set myself: to get as close as possible to reality while remaining close to the lore. I hope you'll like the pack!
In case of questions, feedback or to share your content. Don't hesitate to join my discord server.
**===================
Installation guide in a readme file in the archive**
This pack includes
lssdscout1 (Scout 2013 Arjent).
lssdscout2 (Scout 2013 Legacy).
lssdscoutnew1 (Scout 2016 Standard).
lssdscoutnew2 (Scout 2016 ASAP).
lssdalamonew1 (Alamo 2018 Old gen).
lssdalamonew2 (Alamo 2020 New gen with small TA).
lssdstanier1 (Standard with ASAP old/new extra).
lssdstanier2 (Slicktop).
lssdumk1 (Buffalo STX).
lssdumk2 (Stanier).
lssdumk3 (Buffalo 2).
lssdmule (Civilian/utility Stuff).
lssdsecurity1 (Security Buffalo 2).
Davis custom mapping.
Custom EUP.
Template for creating your own livery.
Reflective livery.
Changelog
1.0: Initial release
Known issues
A glass shard problem on the rear window of the Stanier.
MAPPING isn't working well for everyone, I'm working on it.
Notable contributors:
Rockstar Games - Original vehicle.
Jacobmaate, Toxic and 11john11 - Most of the assets.
ukeyS and Reyox - Screenshots (and feedback).
Monkeypolice188 - Glass Shards.
Nacho - Model improvements, bug fixing, trunk organizer, police computer, liberty lightbar.
Dexyfex and the CodeWalker Team - Support and feedback, big thank to them.
Vega and Dark - LSSD Decals.
Nass and Jack Reagan - Feedback, support, 3D assets.
Eddlm - Handlings.
Joshua Tanner - 3D Wheel, model improvements, support, Buffalo2 edits.
ArtehFailz and Anako - Wheel models/edits.
Sethy1124 - LSSD Decal and LSSD 3D logo.
TG_Stig and Dani02 - Mule Maibatsu 4x4.
If you notice an omission in this list, I invite you to let me know as soon as possible!
Terms of Use
- Please do not modify the vehicles without asking me first! (on discord.)
- You can use it for MP stuff (Fivem/Rage...). Just don't forget to credit me.
- Please do not re-upload this pack.